The Fulbright–Creative New Zealand Pacific Writers' Residency at the University of Hawai'i began in 2004. One award is offered each year to a New Zealand–based writer, to carry out work on a writing project. The residency brings to the center, the university, and the public-at-large the work and insights of an outstanding Pacific writer.
Leilani Tamu
"Kiwi Polynesian" Leilani Tamu is a poet, magazine columnist, Pacific historian, former New Zealand diplomat and dedicated mum. Born in New Zealand to a Samoan mother and Pākehā father, Leilani's mixed cultural heritage has played an important role in shaping both her creative and professional career. Through her ability to draw on a diverse range of experiences, Leilani brings a fresh perspective to the table when tackling issues of social and cultural relevance to the Pacific region. In her columns, she has written about issues as diverse as racism, unemployment, property investment, cyber bullying, youth suicide, and motherhood.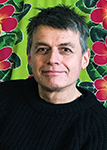 David Eggleton
David Eggleton grew up and was educated in Tāmaki Makaurau-Auckland, and now lives in Otepoti-Dunedin in the south of the South Island (Te Waipounamu) of Aotearoa-New Zealand. He is a poet, non-fiction writer, arts reviewer and editor. An award-winning critic, his non-fiction books include Into the Light: A History of New Zealand Photography, published in 2006, and Towards Aotearoa: A Short History of Twentieth Century New Zealand Art, published in 2008. His first collection of poems, South Pacific Sunrise, was co-winner of the PEN New Zealand Best First Book of Poems Award in 1987. In 2015 he received the Janet Frame Literary Trust Award for Poetry. His collection of poems, The Conch Trumpet, won the 2016 Ockham New Zealand Book Award for Poetry. Also in 2016 he received the Prime Minister's Award for Literary Achievement in Poetry. A new poetry collection, Edgeland and other poems, was published by Otago University Press in July 2018. Until December 2017, David was Editor of Landfall, Aotearoa New Zealand's leading literary journal. While at the University of Hawaii, Manoa this semester, David will draft out a collection of poems exploring his Pasifika heritage. These will include poems inspired by the myths and legends of Te Moana Nui a Kiwa and will incorporate work about Mana Moana, the power of the ocean and ancient Pasifika connections. One of his grandmothers was from the village of Namoli in Nuku'alofa, Tonga, and one of his grandfathers was from the village of Motusa in Rotuma, Fiji.
Daren Kamali
In 2012, Daren Kamali was the ninth Fulbright–Creative New Zealand Writer-in-Residence. Daren infuses his Fijian and Wallis and Futunan heritage with poetry and creative writing by including chants, songs, and oral traditions. Much of his work is inspired and influenced by his experiences and upbringing in Fiji and in Aotearoa/New Zealand. While in residence, Daren worked on a manuscript for his second book of poetry, songs, and short stories inspired by the ocean and the legends and history of exploration throughout Oceania.
Marisa Maepu
Marisa Maepu was the 2011 writer-in-residence. She has published numerous fiction and nonfiction pieces. One of her short stories, "'88," was a winner in the New Zealand national competition Six Pack Three. Marisa has also published several children's stories in Samoan language. These are used in New Zealand schools to support the Samoan language curriculum. While in Hawaiʻi, Marisa researched and began writing a historical novel set in Sāmoa, American Sāmoa, and New Zealand.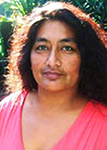 Makerita Urale
Playwright, author, filmmaker, and producer Makerita Urale was the 2010 writer-in-residence. In residence at the center for three months, beginning in August, Urale worked on her playscript, The Heathen's Way, building on ideas she first explored in her play, Frangipani Perfume, published in 2004. Frangipane Perfume toured internationally and was named one of the top ten plays of the decade by literary magazine The Listener. As a film director, producer, and writer, Urale has a number of films to her credit, including The Hibiscus, Savage Symbols, Mob Daughters, Children of the Revolution, and Waiata Whawhai: Songs of Protest.
Toa Fraser
Celebrated playwright, screenwriter, and film director Toa Fraser was the 2009 Pacific writer-in-residence. A Pacific storyteller with a global perspective, Fraser began in theater. His first play, BARE, won Best New Play at the 1998 Chapman Tripp Awards in Aotearoa/New Zealand in 1998. His award-winning play No. 2 (1999), a solo show, was the basis for his debut feature film, Naming Number Two (2006), starring well-known American actress Ruby Dee as an aging Fijian matriarch who commands her children to prepare one last great feast, at which she will name her successor. During his residency he worked on a screenplay of Robert Lewis Stevenson's novella The Beach at Falesa.
David Young
Writer, environmentalist, and historian David Young was the 2008 Pacific writer-in-residence. Young works from the perspective that people and landscape—history and the environment—are one. Among his books is Woven by Water: Histories from the Whanganui River, a study of race relations on what is arguably the most distinctively "Māori" river in the country. Central to the project was Young's relationship with Titi Tihu, tohunga (priest) of the river, who for many years had been battling in the courts for the return of the Whanganui to his people. Young's more recent books include Our Islands, Our Selves: A History of Conservation in New Zealand and Whio: Saving New Zealand's Endangered Blue Duck.
Sarona Aiono-Iosefa
Children and young people's writer Sarona Aiono-Iosefa, from Aotearoa/New Zealand, was the 2007 Fulbright–Creative New Zealand Pacific Writer-in-Residence. The author of a number of fiction and nonfiction books, she first started writing for her children, so that they could read stories about their Samoan heritage. Aiono-Iosefa used her time in Hawai'i to complete a draft of O Se Mea e Tatau, a novel that weaves stories of pre-Christian Sāmoa with contemporary stories and concerns. Much of her time in Hawai'i was spent researching descriptions of the Samoan past at the University of Hawai'i Pacific Collection, the most comprehensive collection of Pacific materials in the world.
Victor Rodger
Samoan-Pālagi playwright Victor Rodger, from Aotearoa/New Zealand, was the 2006 Fulbright–Creative New Zealand Pacific Writer-in-Residence at the Center for Pacific Islands Studies. His semi-autobiographical and award-winning first play, Sons, explores the culture clash a young 'afakasi Samoan man experiences when he tries to establish a relationship with his estranged Samoan father and his half-brother, who is unaware of his existence. Issues of race and both cultural and sexual identity figure prominently in all of Rodger's work, and his third play, Ranterstantrum, takes a darkly funny look at contemporary race relations in Aotearoa/New Zealand. His fourth play, My Name is Gary Cooper, was first performed in Aotearoa/New Zealand in 2007. It centers around a young 'afakasi Samoan man who travels to 1970s Los Angeles to wreak revenge on the Pālagi father who deserted his Samoan mother. A former journalist, and occasional actor, Rodger has written for film, television, and radio.
Donna Tusiata Avia
The 2005 writer-in-residence was Donna Tusiata Avia, an emerging New Zealand poet, writer, and performer of Samoan and Pālagi heritage. Her first collection of poetry, Wild Dogs Under My Skirt, was published in 2004 and received widespread critical acclaim. Wild Dogs began as poetry for the page, but it developed another life, intertwining poetry and theater and eventually becoming a one-woman show. During her residency at the Center for Pacific Islands Studies, Avia worked on a second collection of poetry and developed a second theater piece. According to Avia, "My writing has always been around issues that I feel passionately about: the search for and creation of identity, being of mixed heritage, 'outsiders,' isolation, nationality and universality, unearthing the past, the views from inside and outside…the uneasy place of those who stand between, the richness and flexibility of Pacific peoples and cultures, the universality of human experience."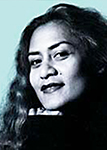 Sima Urale
The inaugural recipient of the residency, in 2004, was writer and film director Sima Urale, whose award-winning films include O Tamaiti, Velvet Dreams, and Still Life, as well as music videos. Urale is a graduate of the New Zealand Drama School Toi Whakaari, in Wellington, and the Film and Television School of the Victorian College of the Arts, in Melbourne, Australia. Her writing project during the residency was to develop her first full-length feature film script, Moana. In addition to working on her screenplay, Urale visited classes, showed and discussed her films, worked with high school students on media projects, and mentored other filmmakers.
Mīria George
Mīria George was the Fulbright-Creative New Zealand Pacific Writer in Residence in 2017. She is a poet, writer, director, and producer of theatre and film. She co-founded Tawata Productions, a contemporary Māori and Pasifika performing arts company in 2004 along with Tawata Press. She debuted her first stage play, Oho Ake, in Wellington in 2004. In 2019, George's debut as a writer and director of VAI occurred at the Berlin International Film Festival. At the 2021 Hawaiʻi International Film Festival, the New Zealand International Film Festival, and Pollywood Pasifika Film Festival, her film fire in the water, fire in the sky was screened. George has published a collection of poetry entitled The Wet Season. She continues to amplify creative Māori, Pasifika, and international Indigenous voices through the establishment of platforms such as the Kia Mau Festival.
Karlo Mila
Originally from Rotorua, Aotearoa-New Zealand, Mila is a poet and writer that served as the Fulbright-Creative New Zealand Pacific Writer in Residence in 2015. Her work forcuses on political and personal realities of Pasifika identities. In 2006, she published her first collection, Dream Fish Floating, winning the NZSA Jessie Mackay Best First Book Award for Poetry. In 2012, Mila represented Tonga at the World Poetry Summit Olympiad in London. She was awarded the Contemporary Pacific Artist Award at the 2016 Creative New Zealand Arts Pasifika Awards. Her most recent collection of poetry, Goddess Muscle, was published in 2020.
Oscar Kightley
Award-winning journalist, writer, playwright, actor, presenter, and director Oscar Kightley was the Fulbright-Creative New Zealand Pacific Writer in Residence in 2020. Originally from Sāmoa, Kightley immigrated to Aotearoa-New Zealand when he was four. Kighley first served as a journalist during the beginning of his career, eventually becoming a presenter for children's television. In 2006, he co-wrote and acted in the incredibly successful Sione's Wedding (internationally released as Sāmoan Wedding). Shortly after in 2007, Kightley served as an artist resident at UH Mānoa
Coco Solid
Jessica Hansell, known by Coco Solid is a writer, director, artist, emcee, and producer. She was the Fulbright-Creative New Zealand Pacific Writer in Residence in 2018. While at UH Mānoa, she began writing How to Loiter In a Turf War as she was researching the issue of gentrification in the Pacific. Her mission is to represent Oceaniac narratives, wāhine, the expression of LGBTQIA experiences, and underground creatives of color. She created the famous Māori cartoon Aroha Bridge and has screenwriting credits on Wellington Paranormal and Ahikāroa. She has a loyal musical following and is in charge of the record label and production house Kuini Control