The Center for Pacific Islands Studies Visiting Artist Program began in 2002. The program, which was made possible by a US Department of Education Title VI grant, brought an artist to campus, usually during spring semester, for varying lengths of time, to visit classes, take part in public programs on the Mānoa campus and other UH campuses, and, occasionally, to teach a course. Though the program has ended, the visiting artists have maintained close and collaborative ties with the center.
The artists brought to campus include:
2010
Sopolemalama Filipe Tohi
Sopolemalama Filipe Tohi's paintings and his work in wood, stone, steel, sennit, and wool, explore the beauty of the Tongan traditional art of lalava (lashing), its expression of a life philosophy, and its relevance to contemporary identity. In 2009, Tohi, who was born in Tonga and emigrated to Aotearoa/New Zealand in 1978, was presented with the Senior Pacific Artist Award as part of the thirteenth annual Creative New Zealand Arts Pasifika Awards. His residency was cosponsored by the UHM Department of Art and Art History and Pasifika Foundation Hawai'i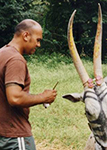 2009
Michel Tuffery
Michel Tuffery, painter, sculptor, printmaker, and performance artist, is widely celebrated for works that express social, and environmental, and political issues in the contemporary Pacific. An artist of Samoan, Cook Island, and Tahitian descent, Tuffery has been awarded a number of national and international art prizes, public commissions, and residencies. He currently lives and works in Aotearoa/New Zealand. His residency was cosponsored by the UHM Department of Art and Art History.
2007
Oscar Kightley
Oscar Kightley, actor, television- and screenwriter, playwright, journalist, and radio show host, was born in Sāmoa and grew up in Aotearoa/New Zealand. He cofounded the theatre group Pacific Underground and the Island Players theatre company and is a member of the Naked Samoans comedy group, creators of the hit animated series bro'Town. He also co-wrote and acted in the highly successful 2006 feature film Sione's Wedding (released in the United States as Samoan Wedding).
2006
Teweiariki Teaero
Teweiariki Teaero, who was born on Nikunau Island in Kiribati, is an artist, a poet, and a teacher. His distinctive drawings and paintings are inspired by traditional art motifs, ideas, legends, and contemporary issues in the Pacific. He has contributed poetry to numerous literary journals and is the author of two collections—on eitei's wings and Waa in Storms. Mr Teaero has a Postgraduate Diploma in Education and a Master of Arts in Education from the University of the South Pacific where he is Assistant to the Head of the School of Humanities.
2005
Rosanna Raymond
Rosanna Raymond, performance poet, artist, costume designer, and writer. New Zealand–born and of Samoan and Pākeā descent, Raymond currently lives, writes, and performs in London. Her poetry springs, in part, from her experiences in the diaspora, but it ranges across the various landscapes of her life and derives much of its force and images from the oral histories taught to her in her youth.
2004
Neil Ieremia
Neil Ieremia, choreographer and founder and director of Black Grace Dance Company in Auckland, New Zealand. Of Samoan heritage, Ieremia inspired audiences in Honolulu with images of Black Grace's powerful performances and stories of his experiences as a dancer and his dream of creating a permanent company that would bring together the best Māori and Pacific Islander male dancers in New Zealand. He also taught a master class for the UH Dance Program in the Department of Theatre and Dance.
2003
Larry Thomas
Larry Thomas, filmmaker, playwright, and lecturer in the Literature and Language Department at the University of the South Pacific, in Suva, Fiji. Thomas showed and discussed two of his films: Compassionate Exile (made with Bob Madey), a story of the leprosarium on Makogai, in Fiji, and A Race for Rights, a reflection on the recent coups and aftermath in Fiji, through the eyes of villagers and others affected by the unrest.
2002
John Pule
John Pule, painter, printmaker, novelist, and poet. Pule, who was born in the village of Liku, Niue, emigrated to Auckland when he was two years old. He is a renowned painter and author of The Bond of Time, an epic love poem; The Shark that Ate the Sun, a novel; and Burn My Head in Heaven, also a novel. In addition to giving an evening lecture, Pule taught two courses in the Department of English while he was the visiting artist.
Photo by Jan Kemp