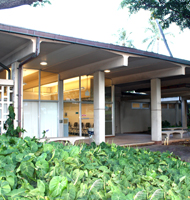 University Health Services Mānoa
Contact / Location
University Health Services Mānoa is committed to protecting your confidentiality rights as they relate to your Protected Health Information (PHI), in accordance with the Health Insurance and Portability and Accountability Act of 1996 (HIPAA).

To assist us in protecting your confidential information, please be sure to use the appropriate method to contact us.
To submit documents for health clearance review (choose one of the following options below):

File Drop
Use our secured email method to safely transmit personal health clearance documents. File Drop instructions
Fax
(808) 956-3583
Mail
University of Hawaiʻi - Mānoa
University Health Services
1710 East West Road
Honolulu, Hawaiʻi 96822

Be sure to include your UH ID number on all documents.

To make an appointment, access your secure messages or review your billing account summary:

To contact us with general questions regarding the UH Mānoa Health Clearance requirements:

For all other questions, please call us at (808) 956-8965.

Visitor Parking:
Behind Kennedy Theater (marked with green stalls). Payment is made at the Pay Station.
You may also park at the lower campus or Dole Street parking structure. Please call (808) 956-8965 for additional details.
Health Promotion Office / LOKAHI Peer Education Program
The Health Promotion Program and Resource Center is located in the Queen Liliʻuokalani Center for Student Services (QLCSS) building, Room 406. Go to Health Promotion Program for more information.
2600 Campus Road, QLCSS Rm. 406
Honolulu, Hawaii 96822

Phone: (808) 956-3574
Email: healthed@hawaii.edu
Please note: The Health Promotion Office is closed during all State and Federal holidays.
Alcohol & Other Drug Education Program (ADEP)
Phone: (808) 956-3574
BASICS Brief Intervention
Mānoa Alcohol Project (MAP)
UH Mānoa Smoke-Free Campus Website
Student Health Insurance
Hawaii Medical Service Association (HMSA)
Phone: (808) 948-5555
Student Health Insurance Office
For questions regarding the UH Student Plan or insurance requirements for International students, please contact:
University of Hawaiʻi at Mānoa
Student Health Insurance Office (SHIO)
University Health Services
1710 East West Road
Honolulu, HI 96822

Phone: (808) 956-5361
Email: shio@hawaii.edu
Office hours: Appointment required

Student Health Advisory Council (S.H.A.C.)
Phone: (808) 956-4493
Leeward Community College Student Health Center
96-045 Ala Ike, Administration Building Room 122
Pearl City, Hawaii 96782-3393

Phone: (808) 455-0216
www.hawaii.edu/shs/lcc