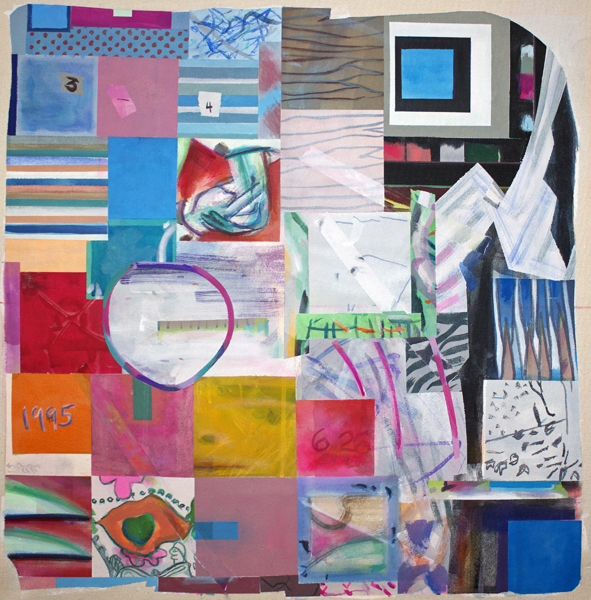 EXHIBITION
NEW NEW YORK: ABSTRACT PAINTING IN THE 21ST CENTURY
October 4 - December 4, 2015
The Art Gallery at the University of Hawai'i at Mānoa
Resurgence of Abstract Art Examined at UH Manoa Exhibit
Welcome to the Sentient World: The New Abstraction by Noe Tanigawa, Hawai'i Public Radio
An Examination of Abstract Art_Honolulu Star Advertiser111515.pdf
EVENTS
free and open to the public
Sunday, October 4 / The Art Gallery
2-3 pm, Gallery walk-through with curators Debra Drexler + Liam Davis and Intersections Visiting Artist Barbara Takenaga
3-5 pm, Reception
Monday, October 5 / ART Auditorium
6-7:30 pm, Panel discussion with NEW NEW YORK curators Liam Davis and Debra Drexler and artists Paul Behnke, Amanda Church, and Lucas Moran
Tuesday, October 6 / ART Auditorium
6-7:30 pm, An Overview of Works by Barbara Takenaga
Public lecture by Barbara Takenaga, Intersections Visiting Artist
Sunday, November 1 / The Art Gallery
2-3 pm, Gallery walk-through with curator Debra Drexler
Wednesday, November 18 / ART Auditorium
6:00-6:30 pm, Light reception
6:30-8:00 pm, Revolution in (Re)Form: More Thoughts on Abstract Painting Today
Public lecture by author and NEW NEW YORK essayist Marco Antonini
Antonini's eponymous essay is a departure point for this lecture
This exhibition examines the phenomenon and reasons for the resurgence of abstraction.  Works by approximately 30 New York artists are featured. Internationally recognized artists include Elise Adibi, John Allmaier, Timothy Atticus, Paul Behnke, Amanda Church, Vince Contarino, Paul Corio, Peggy Cyphers, Theresa Daddezio, Lisa Corinne Davis, Rob de Oude, Jon Elliott, Robert Otto Epstein, Franklin Evans, Rico Gatson, Enrico Gomez, Clare Grill, Shirley Kaneda, Julie Mehretu,  Lucas Moran, George Negroponte, Odili Donald Odita, Gary Petersen, Jenna Ransom, Jered Sprecher, Barbara Takenaga, Julie Torres, Terry Winters, Robert Yasuda, and John Zinsser.

A renaissance of abstraction has recently surfaced cross New York. The sine qua non of modern art, abstraction fell out of favor in the late twentieth century with the emergence of postmodernism and its concepts of paradox, pastiche and deconstruction. But at the beginning of the twenty-first century, abstraction has arisen from the ashes of its professed death with a power and potency rivaling its inception. This phenomenon and the reasons for its resurgence are considered in NEW NEW YORK: Abstract Painting in the 21st Century.
The exhibition takes its title from the New York School, a movement by artists that established abstract expressionism in New York City in the 1940s. It surveys a cross-section of nearly thirty established, mid-career, and emerging artists currently living and producing abstract paintings in this same historical city. While attentive to each artist's distinctive, unique and individualized contributions, the exhibition examines the meanings they make collectively as well.
Reflecting a range of current approaches to abstraction, the artists carry over lessons from twentieth century pluralism that they utilize to reinterpret, reanimate, quote, remix, mash-up, and morph a variety of genres, historical movements, and traditions of mark making. Furthermore the plethora of historical references is often coupled with a feverish inquiry into the new, particularly the investigation into the emergent vocabulary of post-internet art, a genre that reproduces and alters the organizing principles and systems of online visual culture. Many artists featured in the exhibit such as Julie Mehretu and Terry Winters are world renowned for their innovative painting practice. NEW NEW YORK demonstrates a thirty-two thousand year-old medium's participation in the urgent dialogue of survival in a world deluged with information and rapidly changing technologies.
EXHIBITION CATALOGUE
Includes color images of 29 artworks in the exhibition and an essay by Marco Antonini. Designed by Jerica Harada. To PURCHASE the catalogue.
ESSAYIST
Marco Antonini executive director and curator at NURTUREart Non Profit, Inc., wrote an essay, Revolution in (Re)Form: More Thoughts on Abstract Painting Today, for the exhibition catalogue. An author and independent curator, Antonini has conducted interviews and written essays for the books Golden Age: Perspectives on Abstract Painting Today, 2014, NURTUREart Press, and Experimental Photography: A Handbook of Techniques, 2015, Thames and Hudson. His essays, reviews, and interviews have been published in exhibition catalogues, Flash Art International, CURA, Pulse Berlin Journal, and ARTPULSE.
CURATORS OF THE EXHIBITION
Debra Drexler is an artist and a professor of drawing and painting at the University of Hawai'i at Mānoa. Drexler maintains studios in both New York and O'ahu, and her work is informed by her unique bi-coastal experience. Her work translates the inner experience into outer form through a vigorous athletic painterly process. Drexler has had twenty-eight solo exhibits and over one hundred group exhibitions at galleries and museums in New York, Hawai'i, Australia, Berlin and across the states. Recent solo exhibits include: White Box's Annex; Blue Mountain Gallery; HP Garcia Gallery and Java Studios Gallery in New York; and Honolulu Museum and Maui Arts and Cultural Center in Hawai'i. Drexler has an upcoming 2015 solo exhibition at Van Der Plas Gallery, New York City, where she had a three-person exhibition in 2014. In addition, Drexler has exhibited in group shows in New York including The Drawing Center, Denise Bibro Gallery, Exit Art, Art Finance Partners, and Stephan Stoyanov Gallery, and Sideshow Gallery. Reviews include Artweek, New York Arts Magazine, and New Art Examiner. Drexler has curated exhibits in Hawai'i and New York City.
Liam Davis is an artist and curator living in Brooklyn, New York. He has been the curator at Artifact, a project space on Manhattan's Lower East Side since 2012. Davis received a BFA from The Massachusetts College of Art and Design and an MFA from the University of Hawai'i at Mānoa. Davis has taught at the Parsons School of Design (a division of The New School for Social Research) and has been a visiting lecturer at Wellesley College and the School of the Museum of Fine Arts, Boston. From 2011–2012 he held the position of Curator and Media Director at The Muse Center of Photography and the Moving Image. His curatorial projects there include New York Temporary: The City Through Photography Film and Video, 2011 (with HP Garcia) and Stephen Hilger, Hotel California, 2012. From 2011–2014 he has organized an annual exhibition of prints by Brooklyn-based artists in conjunction with Bushwick Open Studios (BOS). His recent curatorial projects at Artifact include Sarah Walker, Drift, 2013, Close Quarters, 2013, Jenna Ransom, Lazy Eyes, 2014, and Lucas Moran, Re Verse, 2014.
Image:
Franklin Evans
futuredpast, 2015
acrylic on canvas
24 x 24 inches
Courtesy the artist and Ameringer McEnery Yohe.
Gallery hours:
Mon.-Fri. 10:00 a.m. - 4:00 p.m.
Sun. 12:00-4:00 p.m.
Closed: Saturdays; Veterans Day, Nov. 11; Thanksgiving Day, Nov. 26; non-instructional day, Nov. 27.
Free admission. Donations are appreciated. Parking fees may apply.