SATELLITE
JONATHAN HOLSHUE at PARC WAIKIKI GALLERY
October 1, 2015 – January 21, 2016
Public Reception: Thursday, October 1, 2015 / 6-8pm
Daily hotel hours / Free admission
Complimentary parking with hotel validation
Jonathan Holshue, a recent graduate of the UHM Department of Art + Art History, received a Bachelor of Fine Arts degree with a focus in glass in May, 2015. His artworks are highlighted as part of an expanded arts partnership of the University of Hawai'i at Mānoa (UHM), the Halekulani and its sister hotel, the Waikiki Parc.
Referring to his recent works in Captured Flow Jonathan states, "Survivors of an evolutionary chain, each sculpture is its own organism, the result of a transformational process. My role is to physically manipulate the molten glass, directly interacting with the medium and acting as an independent variable. I coerce the sculpture, ultimately influencing its evolution. Using simple tools to shape the glass while molten, and through the use of controlled force, I halt its development, thereby encapsulating the moment of its creation. The glass sculpture forever suspends that time of its creation, yet remains seemingly viscous and alive." He is the recipient of the 2015 Outstanding Undergraduate Student in Glass Award, from UHM. Jonathan expects to receive his BFA degree from the Dept. of Art + Art History, UHM, in 2015.
Holshue's recent group exhibitions include Viscosity, 2015, (The Commons Gallery, UHM, Honolulu); Hawaii Glass Artists Annual Exhibition, 2014, 2013, (The Arts at Marks Garage, Honolulu); and Where Dreams Unfold, 2013, (Koa Art Gallery, Honolulu). Holshue is the recipient of the award Outstanding Undergraduate Student in Glass, UHM, 2015. He completed an internship at Oregon Coast Glassworks in Newport, Oregon, 2014.
SPONSORS: University of Hawai'i at Mānoa's Department of Art + Art History, College of Arts + Humanities, and Waikiki Parc Hotel – Hospitality Sponsor for the Arts at UH Mānoa
ADDRESS, HOURS + ADMISSION
Parc Promenade Gallery, Waikiki Parc Hotel Lobby
2233 Helumoa Road, Honolulu
Daily hotel hours / Free admission
Complimentary parking with hotel validation
to learn more about jonathan's work.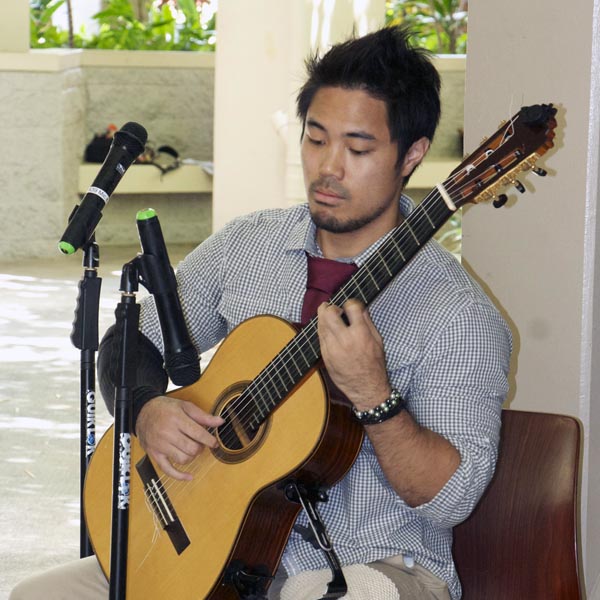 For the first time in this series of up-and-coming young artists' exhibitions at the Waikiki Parc, Aaron Cardenas, guitarist and UHM music student, will provide music at the opening reception. Cardenas expects to complete his Bachelor of Music degree this fall and plans to attend graduate school. He has also studied with guitar virtuosos Benjamin Verdery, Frederic Hand, Carlos Barbosa Lima, and the Brazilian Guitar Duo's Douglas Lora and João Luiz. The recipient of a full scholarship in 2013, Cardenas attended a 10-day master class with Benjamin Verdery, professor of guitar from Yale University, and was one of a few selected to perform a solo recital. He has been teaching and performing professionally since he was 16.
Images:
Jonathan Holshue
Captured Flow, 2015
manipulated glass
Aaron Cardenas
Music@Art Lunchtime Guitar Concerts
Dept. of Art + Art History Courtyard