Artwork by Jenna Manglallan (detail)

  EXHIBITION
MYTHS & MORTALITY: CERAMIC STUDIO RECENT WORKS
November 3 - 27, 2019
Commons Gallery
Events + Programs (events are free and open to the public)
Sunday, November 3
2:00 - 3:00 p.m.,  Gallery walkthrough with Jake Boggs and Brad Taylor
3:00 - 5:00 p.m., Joint opening reception with Brad Evan Taylor: Rift
Exhibition Statement
Myths & Mortality is an exposition of work created by seven artists working in the UHM Ceramics Area. The work as a whole addresses the ideas of transformation, hybridity, non-ordinary states of consciousness, remembrance, and death through evocative and vivid ceramic sculpture.
Artists
Angelo Del Rosario
Sam Mahoney
Jenna Manglallan
Donna Nakamoto
Joy Sanchez
So Hee Song
Shannon Webb

Artwork by Shannon Webb
About the Curator
Jake Boggs is a lecturer in the UHM Ceramics Area as well as an ongoing instructor at the Hawai'i Potters Guild. He holds a BFA from Eastern Kentucky University and MFA from UH Mānoa. His interest in ceramics has taken him to the Ecuadorian Amazon, Jingdezhen City in The Peoples Republic of China, Jeju Island of South Korea, and his home culture in Appalachia where he sources traditional and contemporary forms as creative influence. He exhibits his work widely across the United States, is active in the local chapter of the Empty Bowls philanthropy, and keeps an active and evolving studio practice in Mānoa. His interest in the ceramic arts, as well as education, propel him forward in shaping the local ceramics community.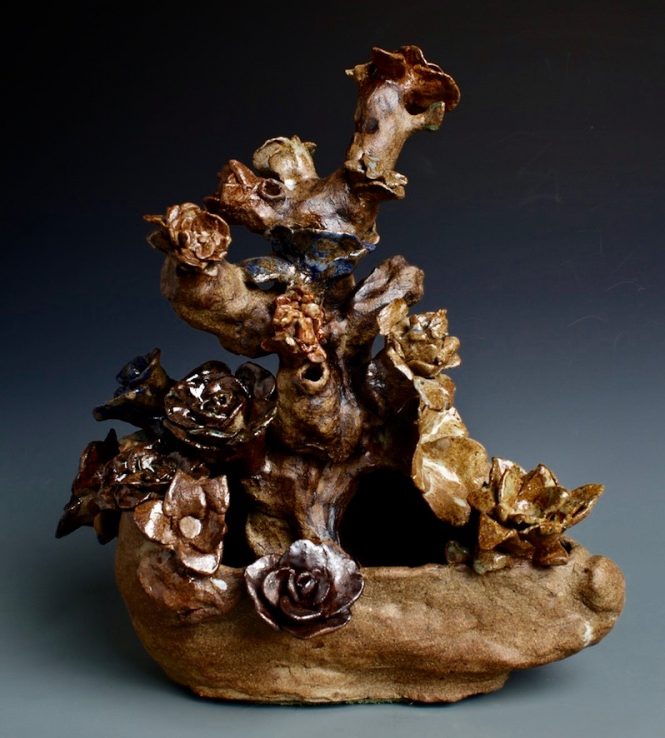 Artwork by So Hee Song
Sponsors 
University of Hawai'i at Mānoa's Department of Art + Art History and College of Arts + Humanities; Hawai'i State Foundation on Culture and the Arts, through appropriations from the Legislature of the State of Hawai'i and by the National Endowment for the Arts; Halekulani Hotel – Hospitality Sponsor for the Arts at UH Mānoa; and anonymous donors.
Gallery hours + admission:
Mon. – Fri. 10:00 a.m. – 4:00 p.m., Sun. 12:00 p.m. - 4:00 p.m.
Free admission. Donations are appreciated.
Parking fees may apply.
Directions
Information may be subject to change.