EXHIBITION
YUSUKE AONUMA: EXPERIMENT AND AWARENESS
February 11 – 20, 2019
Commons Gallery
Special Events (all events are free and open to the public)
Friday, February 15
Artist interview on HPR Arts & Culture with Noe Tanigawa
Tuesday, February 19
6:00 p.m. - Artist talk (Room 101,  lecture hall)
The artist will be working during the following hours in the Commons Gallery
Tuesday, Feb. 12, 10:00 a.m. - 12:00 p.m., 1:00 - 6:00 p.m.
Wednesday, Feb. 13, 10:30 a.m. - 12:00 p.m., 1:00 - 6:00 p.m.
Thursday, Feb. 14, 1:00 - 6:00 p.m.
Friday, Feb. 15, 10:00 a.m. - 12:00 p.m., 1:00 - 6:00 p.m.
Tuesday, Feb. 19, 10:00 a.m. - 12:00 p.m., 1:00 - 6:00 p.m.
Wednesday, Feb. 20, 10:00 a.m. - 12:00 p.m., 1:00 - 6:00 p.m.
"Experimentation is a crucial part of my making and it often informs me of what to do next."
This exhibition highlights the work of Yusuke Aonuma, grand prize winner of the Tokyo Midtown 2018 annual art and design competition. Aonuma uses dandelion (tanpopo タンポポ ) to form three-dimensional geometric and architectural structures.
"Cities undergo constant renewal. Their cityscapes change with time, and have always brought changes to the time we spend and the places we spend it in. But no land was ever created to become a city. A city is the result of an expansion that happens with repeated construction and demolition of buildings. I planted the fluff from dandelions to express this constant renewal. Tiny, delicate buildings fervently stand up, and eventually become a city. Even if they fall down, they can be reborn if someone replants them. Cities do not belong to any one person, they constantly renew themselves with time."
Artist Bio
Born 1989 in Nagareyama, Chiba Prefecture. Lives in Tokyo.
2012 Graduated from Department of Industrial, Interior, and Craft Design at Musashino Art University Faculty of Arts
2016 Completed course in design at Tokyo University of the Arts Graduate School of Fine Arts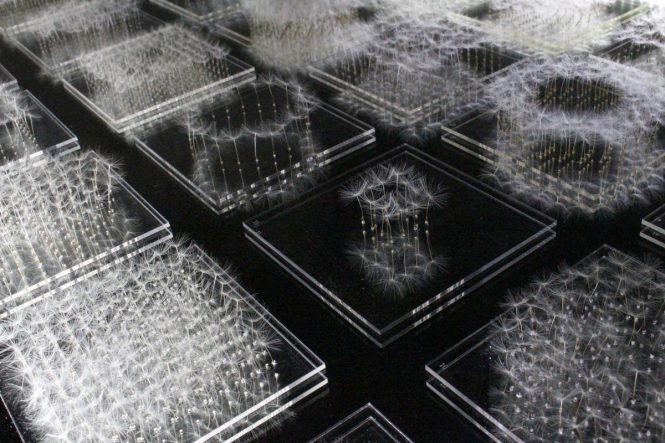 Sponsors
University of Hawai'i at Mānoa's Department of Art + Art History and College of Arts + Humanities; Hawai'i State Foundation on Culture and the Arts, through appropriations from the Legislature of the State of Hawai'i and by the National Endowment for the Arts; Waikiki Parc Hotel – Hospitality Sponsor for the Arts at UH Mānoa; and anonymous donors.
Gallery hours + admission:
Mon. – Fri. 10:00 a.m. – 4:00 p.m.
Free admission. Donations are appreciated.
Parking fees may apply.
Directions