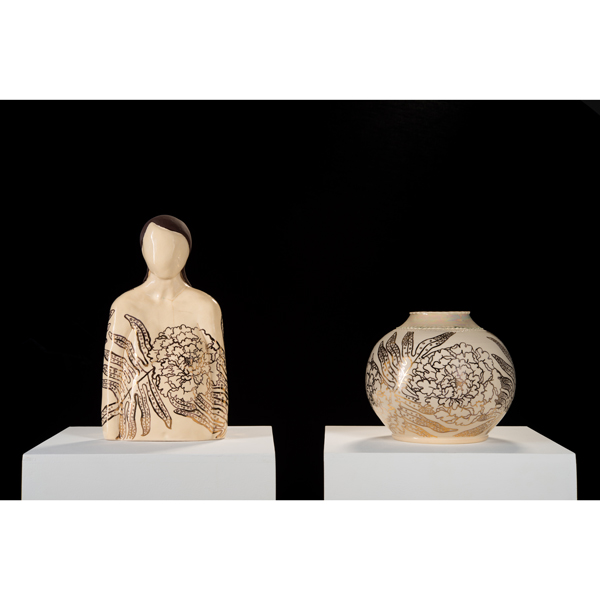 SATELLITE
MOMOE NAKAJIMA at WAIKIKI PARC GALLERY
June 8 – September 14, 2017
Public Reception: Thursday, June 8, 2017 / 6–8pm
Momoe Nakajima's sculptures are highlighted as part of an expanded arts partnership of the University of Hawai'i at Mānoa (UHM), the Halekulani and its sister hotel, the Waikiki Parc.
Momoe Nakajima, a Hawai'i-based artist, is inspired by her connections to Japan and Hawai'i. She states, "As the saying goes, 'Home is where the heart is.' Being born in Japan, yet raised in Hawai'i, this sentiment holds special relevance. The distance between me and my Japanese heritage has grown, and while at times I experienced feelings of rootlessness, I've come to identify Hawai'i as my home."
Her recent works include several pairs of a ceramic figure and a jar. The jar accompanies and grounds the figure while providing guidance like an 'aumakua, a Hawaiian personal or family god. Each pair reflects its bond through matching surface designs that feature plants and flowers from Japan and Hawai'i. For Nakajima, they represent home, old and new, and past and present, as she continues to explore and define where she belongs.
Nakajima, the recipient of a Bachelor of Fine Arts degree from the Department of Art + Art Historyv, UHM (2017), concurrently attended both UHM and Windward Community College (WCC). Although the commute was sometimes challenging, she is proud to call both campuses "her school." Since 2014 she has held two art-related jobs at WCC—kiln and glaze technician at the ceramics studio and exhibition installation assistant at Gallery 'Iolani.
In 2017 Nakajima was honored with the UHM Ceramic Faculty Book award. Her artwork has been presented at The Art Gallery, UHM, in SYSTEMS: 2017 Bachelor of Fine Arts Exhibition; and at Gallery 'Iolani, WCC, in Confluence 4, (2016); Ka Waiwai Mohala, (2014); and Confluence 3, (2011).
Guitarist Christopher Hopper will provide music at the opening reception in this series of up-and-coming young artists' exhibitions at the Waikiki Parc. Hopper studied guitar with Nā Hōkū Hanohano Awards finalist Ian O'Sullivan and ukulele under Dr. Byron Yasui. In 2016, he received a Bachelor of Music degree in performance from the Department of Music, UHM. He has also studied with guitar virtuosos Carlos Barbosa Lima, and the Brazilian Guitar Duo's Douglas Lora and João Luiz. The recipient of a full scholarship in 2014, Hopper attended Benjamin Verdery's master class where he studied with Verdery, professor of guitar from Yale University, and Grammy Award-winning guitarist John Dearman from the Los Angeles Guitar Quartet (LAGQ). In 2015 Hopper was invited again to attend the master class, which featured former LAGQ member and founder Andrew York. An occasional performer at Hy's Steakhouse, Hopper teaches guitar and ukulele to 20 students each week.
SPONSORS: University of Hawai'i at Mānoa's Department of Art + Art History, College of Arts + Humanities, and Waikiki Parc Hotel – Hospitality Sponsor for the Arts at UH Mānoa
ADDRESS, HOURS + ADMISSION
Parc Promenade Gallery, Waikiki Parc Hotel Lobby
2233 Helumoa Road, Honolulu
Daily hotel hours / Free admission
Complimentary parking with hotel validation
Image:
Momoe Nakajima
Put Down Roots, 2017 (detail)
stoneware
Photographer: Chris Rohrer