Two Shows to open by recent BFA alums
DANA BREWER + HANA YOSHIHATA
November 16, 2017 – February 09, 2018
First Hawaiian Center
Between Ocean and Sky: Hana Yoshihata
Hawai'i-island artist Hana Yoshihata is inspired by her experiences on traditional voyaging canoes such as the Hokule'a. Working on sheets of paper placed flat on the floor or table, Yoshihata applies sea and fresh water, and adds ink and paint, allowing them to flow together and dry freely. She often combines this technique with detailed brushwork of linear patterns and forms, resulting in sensual, layered surfaces that evoke coastal and submerged topography, or the vastness of the night sky.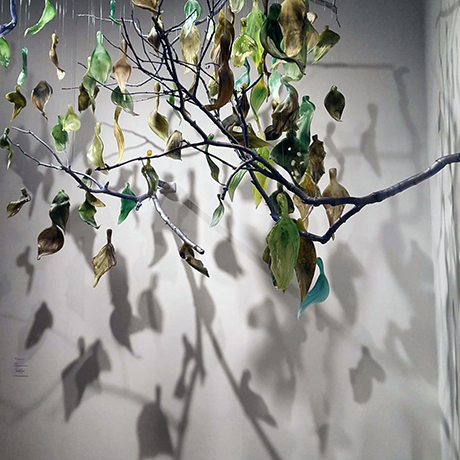 Petrichor Fall: Dana Brewer
Dana Brewer draws inspiration from the natural world and from the power of heat and gravity used in the creation of her glass forms. Her installation designed for the First Hawaiian Center gallery features multiple blown glass leaves and is reminiscent of the shape and movement of a waterfall.