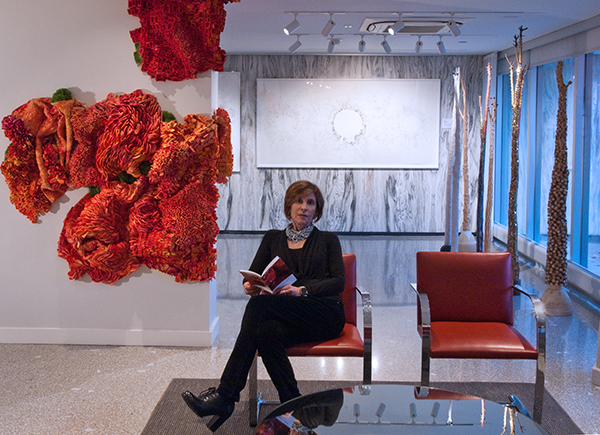 ART  EVENTS
VISITING ARTIST MARGERY AMDUR
February 22 – March 6, 2018
Amdur's residency is a part of the exhibition MATERIAL SLIP.
PUBLIC LECTURE : Between-My-Selves
Tuesday, March 6 at 3:30 p.m.
room 308
Originally from Pittsburgh, Margery Amdur received her B.F.A. from Carnegie-Mellon University and her MFA from the University of Wisconsin in Madison. Margery has had over 60 solo and two-person exhibitions. Her international exhibitions include Turkey, Hungary, Poland, England, Iceland, Latvia, and Suriname.
For over twenty years, Margery has been actively creating site-specific, indoor and outdoor temporary and permanent art installations. In 2012, she completed Walking on Sunshine, a permanent public art project, in the Spring Garden underground-subway station, Philadelphia, PA. In the fall of 2015, as part of the Art in Airport Program, Margery created My Nature, a mixed-media, site-specific installation in Terminal B, at the Philadelphia International Airport. Her work has been selected to be a part of the 2018 The 6th Riga International Textile Fiber Triennial at the Museum of Applied Arts and Exhibition Hall Arsenals.
SPONSORS: University of Hawai'i at Mānoa's Department of Art + Art History and College of Arts + Humanities; Waikiki Parc Hotel; and supported by UHM Student Activity and Program Fee Board.