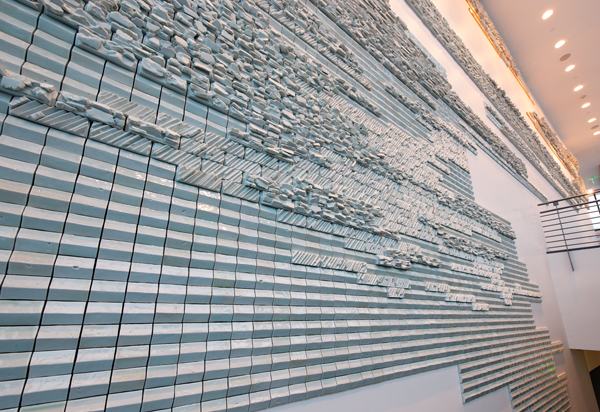 EXHIBITION
EARTH, SKY, TIME, LIGHT, SPACE : THE CERAMIC ART OF WAYNE HIGBY
features works by Wayne Higby, professor and the Robert C. Turner Chair of Ceramic Art at Alfred University, NY, and director and chief curator of the Alfred Ceramic Art Museum
January 17 – February 17, 2017
The Art Gallery
Artist Statement:
Earth, sky, time, light, space: my work is a meditation on the relationship between mind and matter.
The exhibition Earth, Sky, Time, Light, Space: The Ceramic Art of Wayne Higby highlights the diverse work by esteemed and internationally-recognized contemporary ceramics artist Wayne Higby. The exhibition features a selection of approximately 21 works by Higby that include a variety of sizes, shapes, forms, and time periods. Inspired by the American landscape, Higby has created innovative vessels, sculpture, and architectural installations. In addition, his experiences in China affected his ingenious efforts in porcelain and raku earthenware. Higby has been acclaimed as a living legend and visionary of the American Crafts Movement by the American Craft Museum. He is the Intersections Visiting Artist at the Department of Art + Art History, UH Manoa, for spring 2017.
Higby will be in Honolulu to give his lecture, Light Falling on Grass, which was previously presented to a sold-out crowd at George Washington University. He will discuss and explore how his innovative works use landscape imagery as a focal point for contemplation and reflection.
The exhibition is being held in partnership with Hawai'i Craftsmen, a non-profit organization dedicated to promoting fine craft in the art community of Hawai'i, and in celebration of its 50th anniversary.
Two important early Higby artworks in the exhibition are on loan from the Honolulu Museum of Art.
Special events (free & open to the public):
Tuesday, Feb. 7:
1:00 – 2:00 p.m., The Art Gallery
Gallery walk-through with Wayne Higby
Thursday, Feb. 9:
3:30 – 4:30 p.m., The Art Gallery
Reception
4:30 – 5:30 p.m., Art Building, room 101
Light Falling on Grass, a public lecture by Wayne Higby
Sponsors:
University of Hawai'i at Mānoa's Department of Art + Art History and College of Arts + Humanities; Intersections Visiting Artist + Scholar Program; Hawai'i State Foundation on Culture and the Arts through appropriations from the Legislature of the State of Hawai'i and by the National Endowment for the Arts; and supported by Waikiki Parc Hotel – Hospitality Sponsor for the Arts at UH Mānoa; Student Activity and Program Fee Board, UHM; Hawai'i Craftsmen, and anonymous donors.
Images:
EarthCloud: Interior 3, 2012. Photograph, wood frame and Plexiglas.
25″ x 35″ x 1″
Courtesy of the artist.
Cloud Construction: Winter, 2014. Porcelain and wood.
22.625″ x 27.625″ x 7″
Courtesy of the artist.
Gallery hours:
Mon. – Fri. 10:00 am – 4:00 pm
Sun. 12:00 – 4:00 pm
Closed: Saturdays
Free admission. Donations are appreciated. Parking fees may apply.