Ocean as Protector and Punisher: How oceans slow global warming & sow disaster
June 21, 6:00pm - 7:30pm
Mānoa Campus, Richardson School of Law, Classroom 2
---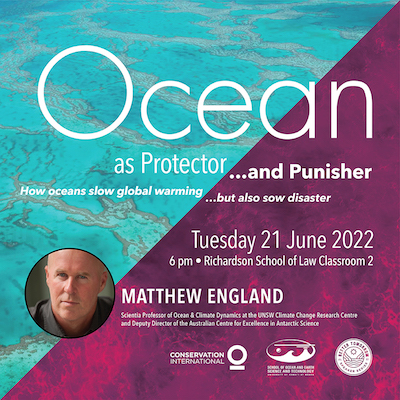 Hosted by the University of Hawai'i (UH) Better Tomorrow Speaker Series and the UH School of Ocean and Earth Science and Technology, renowned expert on large-scale climate-ocean dynamics, Matthew England, will discuss how oceans protect humanity from rapid climate change but with dire long-term effects.

The presentation, Ocean as Protector—and Punisher: How oceans slow global warming but also sow disaster, is free and open to the public.

This event is offered with additional support from the Hawaiʻi Climate Change Mitigation and Adaptation Commission and Conservation International.

England is Scientia Professor of Ocean & Climate Dynamics at the UNSW Climate Change Research Centre and Deputy Director of the Australian Centre for Excellence in Antarctic Science.
Ticket Information
Register at https://www.eventbrite.com/e/matt-england-ocean-as-protector-and-punisher-tickets-357883999677
Event Sponsor
Better Tomorrow Speaker Series, Mānoa Campus
More Information
Robert Perkinson, (808) 351-8076, btss@hawaii.edu, https://manoa.hawaii.edu/speakers/matthew-england/
---