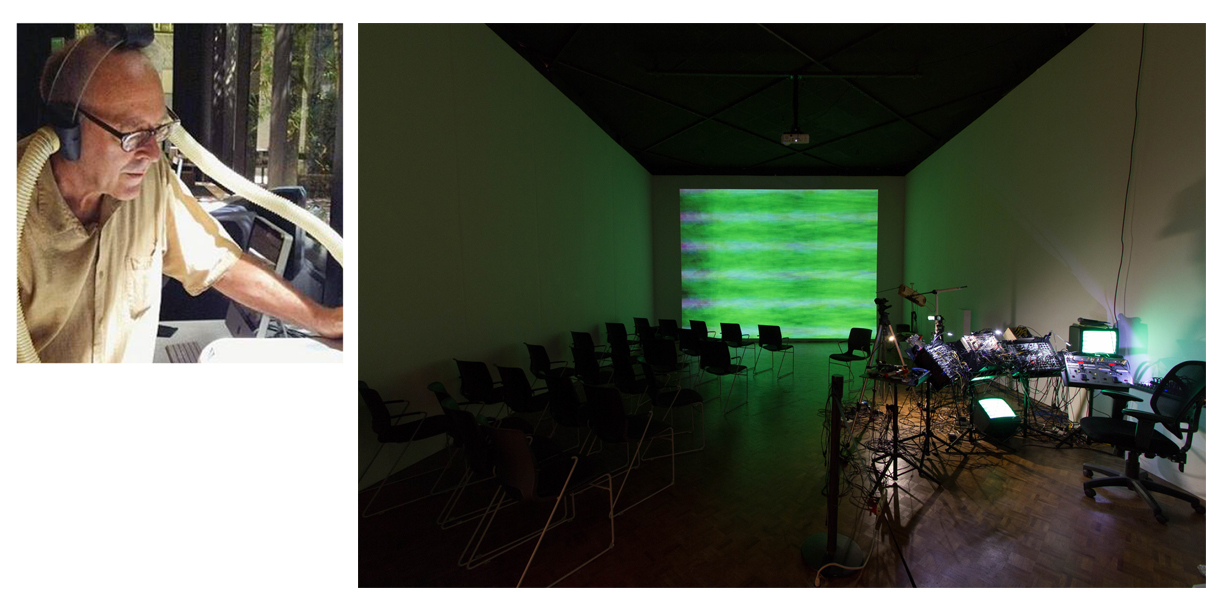 PETER CHAMBERLAIN
Professor
Office Room 353 / cpeter@hawaii.edu
RESEARCH AREAS - Improvisational systems, Inter-media with primary areas in sculpture, video, sound, real-time processes and events, digital imaging, traditional and experimental music, sustainable construction strategies
BIO
Throughout four decades of teaching and working in the areas of expanded arts and intermedia Peter Chamberlain has emphasized systemic structure: the structure of process, of production, of value systems, of composition, of the art world, etc. An effective way to elicit an understanding and respect for the function and importance of structure is by employing scores through all aspects of a creative process. This approach is different from using sketches or storyboards because the act of using a score involves constantly evolving and adaptive creative processes throughout both the development of the score and the interpretive performance based on it. A single score can also be applied to a variety of media and forms through recoding the visualized data.
Chamberlain has exhibited and performed in Hawai'i, throughout the US and internationally in the cities of Essen, Melbourne, Mexico City, Munich, Seoul, Tasmania, Toronto and Vancouver. His current interests include music product ion with Mokaki, a group of "rapidly aging activist poets, artists, and musicians", and exploring various modes of digital image manipulation and printing as a part of Lithopixel Refactory Collective.
EDUCATION
Post Grad - Vancouver College of Art (now Emily Carr University of Art and Design)
MA – SUNY New Paltz
MFA - SUNY New Paltz
BA - SUNY Albany
RESEARCH HIGHLIGHTS
Chamberlain has this to say about his project "SCORES: NOTATIONAL SYSTEMS, OPEN ENDED STRUCTURES, and DATA TRANSFORMATIONS"
Visual notations, also called scores, can be used to reflect and define existing or invented structures (compositions). Such structures can be used to direct the organization and production of music, which in this case can be more expansively defined as organized sound. Once data is structurally organized, it can be coded, decoded, or recoded to be used as instructional vehicles to inform production within a variety of forms and media.
The beauty of these notational systems stems from their ability to be applied to a variety of creative processes and also to span a range from extreme specificity to extreme expression. For instance, some repeating elements are based on the rhythmic structure of a hula beat while other proportions are based on Fibonacci ratios (1,1,2,3,5,8, etc.). I then applied modulation processes in Photoshop that that loosened up the mathematical proportions. Colors were chosen by employing chance operations - indeterminacy. Such processes can involve game-type actions like tossing darts, rolling dice, throwing the I-ching (a John Cage favorite), using a random generator, or a seemingly infinite number of other options.
In contrast, other prints originated as transformed 3D-to-2D imagery to which specific data structures were added intuitively. In most cases an overall score can suggest expansions as well as limitations, and the resulting systems are considered to be open-ended structures. While data structures supply the basis for most of my concepts and compositions, I often factor in intuitive modulations which serve to personalize the work.
The score itself can be considered as an end result. Yet, when used as a score, its interpretation and performance adds a related and expanded element that allows creative activity to continue while concurrently and continuously redefining the essence of the score by reflecting its own constantly changing function or content.
Compositional strategies like these not only played an important role in the modernist history of art and music but also served as a conceptual interface and crossover bridge between the visual arts and sonic arts. Structural concerns of the expanded arts genre and era of experimentalism reference the who's who of the postwar avant-garde including visual artists, poets, and performers as well as musicians. It was this kind of activity that excited and influenced me during my college years in the early seventies and offered an option to the traditional formalism taught at that time."
COURSES TAUGHT
ART 116 (Introduction to 3D Composition)
ART 201 (Introduction to Electronic Arts)
ART 301B (Electronic Arts Studio: Imaging Systems)
ART 301C (Electronic Arts Studio: Sound)
ART 301D (Electronic Arts Sudio: Interactive Systems)
ART 401 (Advanced Electronic Arts Studio)
ART 410 (BFA Seminar)
ART 611-614 (MFA Seminar)