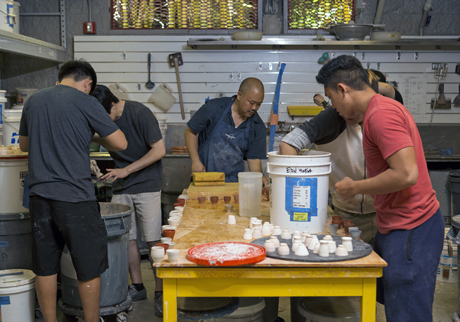 [ 3.19.2017 ]
DAVEN HEE
received a BFA from UHM in 1999 specializing in ceramics.
UHM: Daven, What have you been up to since your BFA and what are you doing at the moment?
DH: I received my MAVA (MFA) from the Australian National University in 2004 and I am teaching at Mid-Pacific Institute. As you know, also sometimes teach at UHM in the Summers. I am constantly making and showing work, both utilitarian and non-utilitarian forms. I was the featured potter for the Vintage Cave restaurant in Honolulu and Mourad restaurant in San Francisco.
Nationally speaking I will be doing a demonstration at this year's NCECA ceramic conference, and included in a concurrent invitational exhibition in Portland where I will be also be doing demonstrations. And I am working on an article for Pottery Making Illustrated. I have taught workshops in Canada (Saskatchewan, Saskatoon), and in San Antonio.
I make it a point to enter all the local juried exhibitions and am a regular in HJCC, and Hawai'i Craftsmen, etc. I have even been HC's featured artist. Ten of my works have received purchase awards from the State Foundation for Culture and the Arts. I am also in the Honolulu Museum of Art permanent collection. I am in national shows now and then. Last year I won the Best of Show at Strictly Functional.
UHM: How did your time at UH contribute to your your profession (art or non-art) and/or your art practice?
DH: My time at UH was immensely important to my development. The critiques from each class helped me be aware of the bigger picture of artmaking. While an undergraduate I served as an assistant for all my instructors. I ran the ceramic studio as its technician. I did every single demonstrations for any visiting groups. I ran the studio for any of the East West Ceramic workshops for Professor Emeriti Suzanne Wolfe. She even flew me to HNL to run her workshop for the Hongik Ceramic workshop with In Chin Lee!
UHM: If applicable, what extra-curricular activities did you pursue while in UHM that was particularly valuable to you personally and professionally? Why?
DH: I was encouraged to enter every juried exhibition to expose my work to the public. I taught workshops at private high schools to help develop my connection to the students and practice public speaking. I offered my time to made centerpieces for educational, arts and cultural events. All of these endeavors helped me to understand how to interact with the general audience and how to become a professional artist. One of most important things of being an artist is your name and reliability.