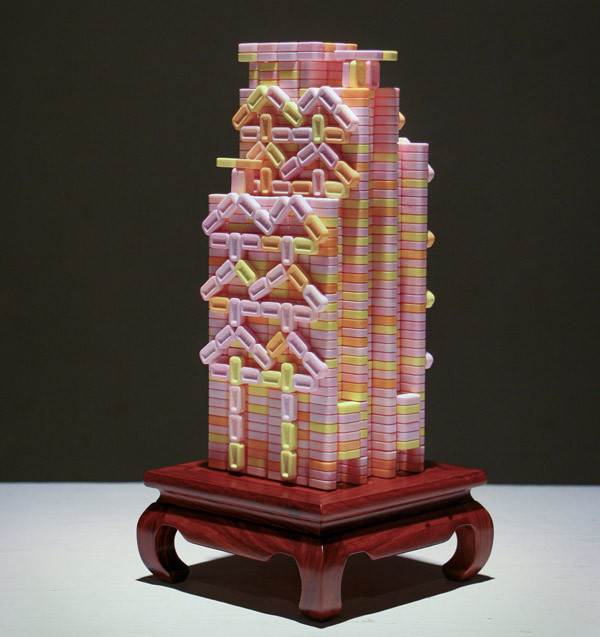 SATELLITE
PERCY LAM
at WAIKIKI PARC GALLERY
April 7 – June 24, 2016
Public Reception: Thursday, April 7, 2016 / 6-8pm
PERCY LAM's artworks are highlighted as part of an expanded arts partnership of the University of Hawai'i at Mānoa (UHM), the Halekulani and its sister hotel, the Waikiki Parc.
Referring to his recent works Percy Lam states, "I was born and raised in Hong Kong. When I immigrated to the United States and settled in Honolulu I became fascinated with PEZ candy dispensers. I collected them and began using them as a way to anchor myself in my new surroundings. I found this material interesting because its form reminded me of the buildings of Hong Kong. I tried to fit into the new culture, but felt that I was outside of it. In order to make sense of this, I first sewed the PEZ wrappers together to create a canvas for a more traditional Chinese landscape. I have continued to use PEZ candies and wrappers to create metaphors for my life-changing experience of immigrating to a foreign land." Lam received his BFA degree from the Department of Art + Art History, UHM, in 2015.
Lam's recent group exhibitions include Hybrid Forms & Interdisciplinary Practice, 2015, in Chicago, and Fiber Hawaii, 2014. He was the recipient of the Dianne Sullivan Memorial Scholarship, 2014, from the Department of Art + Art History.
to learn more about percy's work.
Guitarist Aaron Cardenas will provide music at the opening reception. Cardenas received his Bachelor of Music degree from the Department of Music, UHM, 2015, and will attend graduate school this fall. He has studied with guitar virtuosos Benjamin Verdery, Frederic Hand, Carlos Barbosa Lima, and the Brazilian Guitar Duo's Douglas Lora and João Luiz. The recipient of a full scholarship in 2013, Cardenas attended a ten day master class with Benjamin Verdery, professor at Yale University, and was one of a few selected to perform a solo recital. He has been teaching and performing professionally since he was sixteen.
SPONSORS: University of Hawai'i at Mānoa's Department of Art + Art History, College of Arts + Humanities, and Waikiki Parc Hotel – Hospitality Sponsor for the Arts at UH Mānoa
ADDRESS, HOURS + ADMISSION
Parc Promenade Gallery, Waikiki Parc Hotel Lobby
2233 Helumoa Road, Honolulu
Daily hotel hours / Free admission
Complimentary parking with hotel validation
Image:
Percy Kam Lok Lam
Pezity: HSBC Main Building, 2016
PEZ candy on Chinese wood table
12″ H x 5.5″ W x 5.5″ D
Courtesy of the artist.