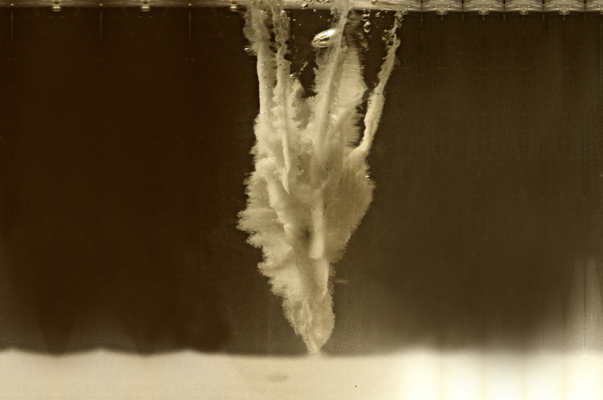 ARTIST STATEMENT:
My research is the nuclear spectrum: touching that which would be the sign or the form of the nuclear effect by imagining a radiant body, a material live, mutant and bombarded with isotopes.
Isotopia is the parallel world, utopia infernal, built from the table of isotopes which serves as a workshop and exhibition area—where visitors are invited to discover and reflect on this monstrous body of impossible matter. —Stéfane Perraud
ARTIST INFO:
Stéfane Perraud explores scientific and technological impasses through drawing, photography, sculpture and interactive installation. Essentially prospective, his multimedia aesthetics evoke an archaeology of the future.
One of the artist's main subjects concerns light and how it relates, both symbolically and scientifically, to knowledge and disaster at the same time. Using diverse electronic techniques, notably light programming, his works interact with the viewer's body, movement and perception, all the while bridging the histories of science and art.
Born in 1975, Stéfane Perraud is a visual artist who first worked in performance and multimedia. He earned an MA in Arts, as a designer/conceptor in decorative arts, and studied multimedia and scenography as a double major at ENSAD (National School for Decorative Arts). From 2008, Perraud has been working on the limits and challenges of new media/trans-media through research initiated since then, within a constant back and forth from plastic to performance practice. Since 2010, nuclear energy and radioactive material have become two of his principal fields of research.
Perraud has participated in numerous artist residencies in France, Canada, and Holland. His recent exhibitions in 2015 include Aux abords de la vallée, Galerie de Roussan, France; Festival Les Bouillants, Le genre, Exposition de Féminin/Masculin at Le Volume, Vernes sur Sèche near Rennes;
Mutations, Musée des Arts Décoratifs, Paris; and Isotopia, Espace Culture Lille 1, France. Perraud has performed in Vienna, Oslo, Paris, Rio de Janeiro, Palermo, and at the Museum of Modern Art, New York City. He has also served as curator, artistic director, programmer, and organizer of festivals, events, and programs in Rio de Janeiro, Tokyo, Paris, and in Kabul, Afghanistan.
Stéfane Perraud lives and works in Montreuil, just outside Paris, France. Galerie de Roussan in Paris, under the direction of Jeanne Lepine and Anne Brengou, previously represented him.
Aram Kebabdjian, born in 1978, holds a doctorate in the history of philosophy. He is a photographer and an award-winning author. His first novel, titled The Idle, is a work of fiction based on the world of contemporary art. Kebabdjian and Perraud have collaborated on several projects, combining Perraud's visual work with Kebabdjian's poetry and graphic design. They often describe their collaborations for the Isotopia installation series as theater.
Images courtesy of Stéfane Perraud:
Blue Flesh, 2017
Plexiglass, pork gelatin, strontium
variable dimensions
Edwin, 2017
print on paper, laser engraving
40 x 30 cm