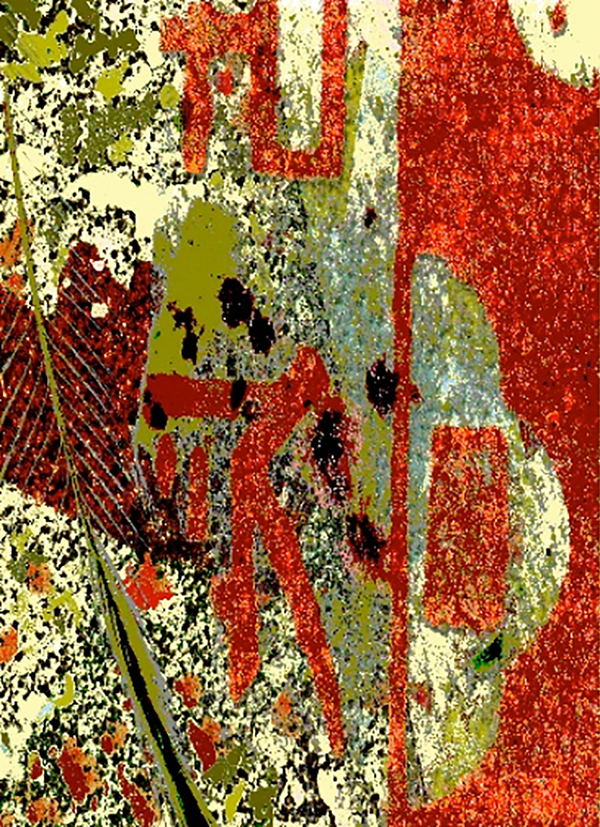 EXHIBITION
AN EXHIBITION OF PRINTS AND WORKS ON PAPER BY JENNY SANZARO-NISHIMURA
(exhibited concurrently with SELECTIONS FROM THE COLLECTION OF ARM AND ROLLER PRESS)
February 28 - April 8, 2016
The Art Gallery at the University of Hawai'i at Mānoa

EVENTS
free and open to the public
Sunday, February 28 / The Art Gallery
2:00–2:30 p.m. Gallery walk-through with Jenny Sanzaro-Nishimura
2:30–3:00 p.m. Gallery walk-through with Charles Cohan, co-curator, Selections from the Collection of Arm and Roller Press
3:00-5:00 p.m. Reception
This exhibition of works by Jenny Sanzaro-Nishimura is a tribute to the people and cultures of Asia and the Pacific Islands. It also includes works from a collaboration with Glennys Briggs titled Genocidal Tendencies.
These works reflect my long held infatuation with other cultures, especially Asia and the Pacific Islands—the art, the food, the languages and their beliefs. From early in my printmaking practice I began incorporating symbols, characters and artifacts from Asia and Egypt into my works and I continue to use them to this day. Living on the largest Island in the Pacific and visiting a number of the Pacific Islands over the years has also brought the influence of 'island life' into my work.
Jenny Sanzaro-Nishimura has been a printmaker for over twenty years. She lectures in Printmedia at Queensland College of Art, Griffith University, where she received a Doctoral degree. Her passion for printmaking began prior to her undergraduate degree and has never waned. She loves the technical processes involved and sees printmaking as medium that can reach a very broad audience and be taken into almost any other art discipline. Jennifer Sanzaro-Nishimura was president of Impress Print Studios in Brisbane.
Image: Asian connection I, 2015
digital print
Courtesy of the artist.
Gallery hours: Mon. – Fri. 10:00 a.m. – 4:00 p.m.; Sun. 12:00 – 4:00 p.m. Closed:Saturdays; Prince Kūhiō Day & Good Friday, Mar. 25; Easter, Mar. 27.
By appointment: Spring Break, Mar. 21–24.
Free admission. Donations are appreciated.
Parking fees may apply.