EXHIBITION

AESTHETIC SURPLUS KOMPANY PRESENTS . . .
features works by Peter Chamberlain, UHM professor of electronic art
August 22 – September 16, 2016
The Art Gallery
Peter Chamberlain goes all out with Aesthetic Surplus Kompany Presents . . . , an unprecedented exhibition of not-yet-realized works that integrate real-time analog video and sound. Constantly modulating events, environments, and performances will be activated by a feedback-responsive analog electronica system that will facilitate real-time interactions between Chamberlain and control elements that respond to movement, sculptural constructions, other interactive scenarios, and performative collaborations with guest artists. Aesthetic surplus from these activities will also be exhibited.
Artist Statement:
Aesthetic Surplus Kompany (A.S.K.) was established in 1976 by Peter Chamberlain, a.k.a. Captain Random, in Vancouver, B.C., Canada. Its manifesto stated that art is a verb, not a noun. Art can be witnessed when it is happening in real-time. After that, what we tend to refer to as art is more realistically a commodified document of the act(ion)—more appropriately referred to as aesthetic surplus. Simple.
This exhibition will emphasize that premise and will maintain the integrity of offering witness to real-time creative activity, primarily through either performed or feedback-responsive audio and video systems fed with sculptural props. Aesthetic surplus from such activity will also be presented when real-time activity is not practical.
Ultimately, the challenge to Chamberlain will lie in his ability to actively manipulate the space into a constantly evolving and provocative experience for 23 straight days—a marathon of improvisational activity. Details will be announced as they materialize.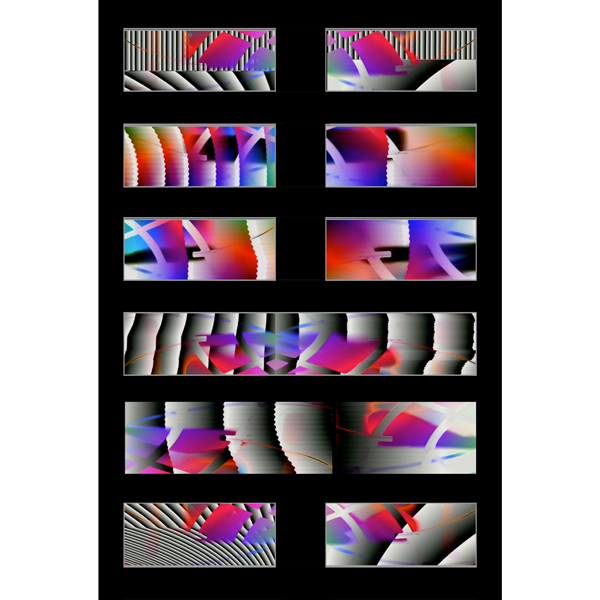 More info on Peter Chamberlain.
Images: Iching #27, 2016. Digital print. Courtesy of the artist.
Gallery hours:
Mon.-Fri. 10:00 am – 4:00 pm
Sun. 12:00 – 4:00 pm
Closed: Saturdays; Labor Day, Sept. 5.
Free admission. Donations are appreciated. Parking fees may apply.