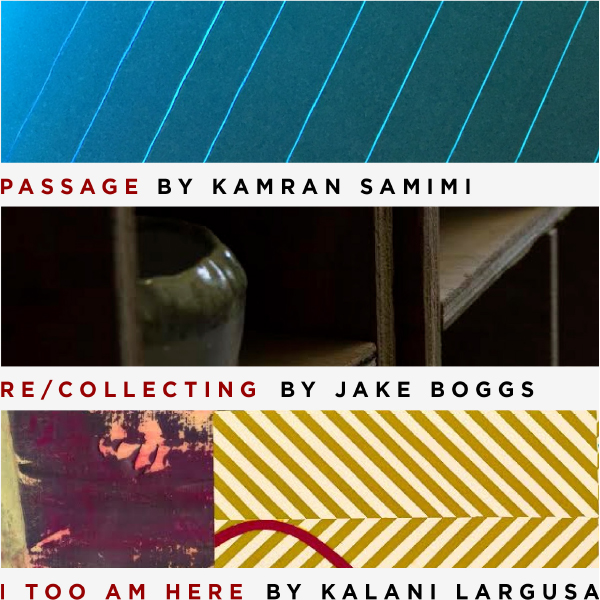 EXHIBITION
2016 MFA THESIS EXHIBITIONS
January 17 – February 12, 2016
The Art Gallery at the University of Hawai'i at Mānoa
The graduate program at the Department of Art + Art History, University of Hawai'i at Mānoa is a comprehensive and diverse center for the graduate study of the visual arts and Asian and Pacific art history. The exciting thesis exhibitions are part of a demanding course of study, production, and review. MFA candidates concurrently present new and engaging works that demonstrate each artist's caliber of ideas, skills, awareness of the global context within which art is created and circulated, and critically engaged artistic practice. The artists, the titles of their exhibitions, and their areas of specialization are:
Jake Boggs, Re/Collecting, (ceramics)
Kalani Largusa, I too am here, (painting)
Kamran Samimi, Passage, (print media and sculpture)
Sunday, January 17
2:00 – 3:00 p.m. Gallery walk-throughs
2:00 p.m. Jake Boggs
2:20 p.m. Kalani Largusa
2:40 p.m. Kamran Samimi
3:00 – 5:00 p.m. Opening reception with music by guitarist Aaron Cardenas
Thursday, January 28
3:30 – 5:00 p.m. Gallery walk-throughs
3:30 p.m. Jake Boggs
4:00 p.m. Kalani Largusa
4:30 p.m. Kamran Samimi
Thesis Defenses
Friday, January 22, 2016 1:30 p.m. Jake Boggs
Friday, February 5, 2016 1:00 p.m. Kalani Largusa
Friday, February 12, 2016 12:00 p.m. Kamran Samimi
ARTIST STATEMENTS:
Jake Boggs presents Re/Collecting, an installation
Souvenirs are laden with the memories of experience; they have the power to conjure up a time past and continue to serve this function even as those memories erode. A collection of objects forms a narrative, a story composed by its elements. These objects are presented as offerings, to be imbued with new memories and histories, to become elements of a new collection.
Kalani Largusa presents I too am here, a selection of paintings
The passage of time in Nicolas Poussin's, Et in Arcadia Ego is poetically revealed through the strong shadow on the tomb cast by the kneeling figure as he scrutinizes an inscription; "I too am in Arcadia" (I live in or had once lived
in paradise).
Kalani Largusa's contemporary abstract paintings in the exhibition I too am here explore a sense of time through the use of an evolved "X" and pyramid pattern. The paintings utilize "cold moves" which suggest spontaneity despite a calculated and deliberately slow execution and strike a balance between pattern and intuition as a record of history.
Largusa states, "I am present mark by mark, but as the painting comes to a close my presence dissolves and the work remains as evidence of the transience of human life."
Kamran Samimi presents Passage, an installation
Utilizing the visual language of geometric abstraction, I am referencing a transition frozen in time. This piece represents the transitory nature of life, encouraging the viewer to be aware of the present moment. Each plane suspended in space represents a transient instant existing between its past and future: a slice of time contributing to an overall sensation of growth and decay. This mimics nature's rhythm, with all things existing in a constant state of flux. As an invitation to pause and experience this moment in time, Passage encourages mindfulness: to be here, now.
MUSIC: Aaron Cardenas will provide music at the opening reception. Cardenas received his Bachelor of Music degree from the Department of Music, UHM, 2015, and will attend graduate school this fall. He has studied with guitar virtuosos Benjamin Verdery, Frederic Hand, Carlos Barbosa Lima, and the Brazilian Guitar Duo's Douglas Lora and João Luiz. The recipient of a full scholarship in 2013, Cardenas attended a ten day master class with Benjamin Verdery, professor at Yale University, and was one of a few selected to perform a solo recital. He has been teaching and performing professionally since he was sixteen.
Gallery hours:
Mon. – Fri. 10:00 a.m. – 4:00 p.m.
Sun. 12:00 – 4:00 p.m.
Closed Saturdays; Martin Luther King Jr., Day, Jan. 18.